Van Cleef & Arpels unveils Time, Nature, Love Exhibition in Seoul
---
20 NOV 2023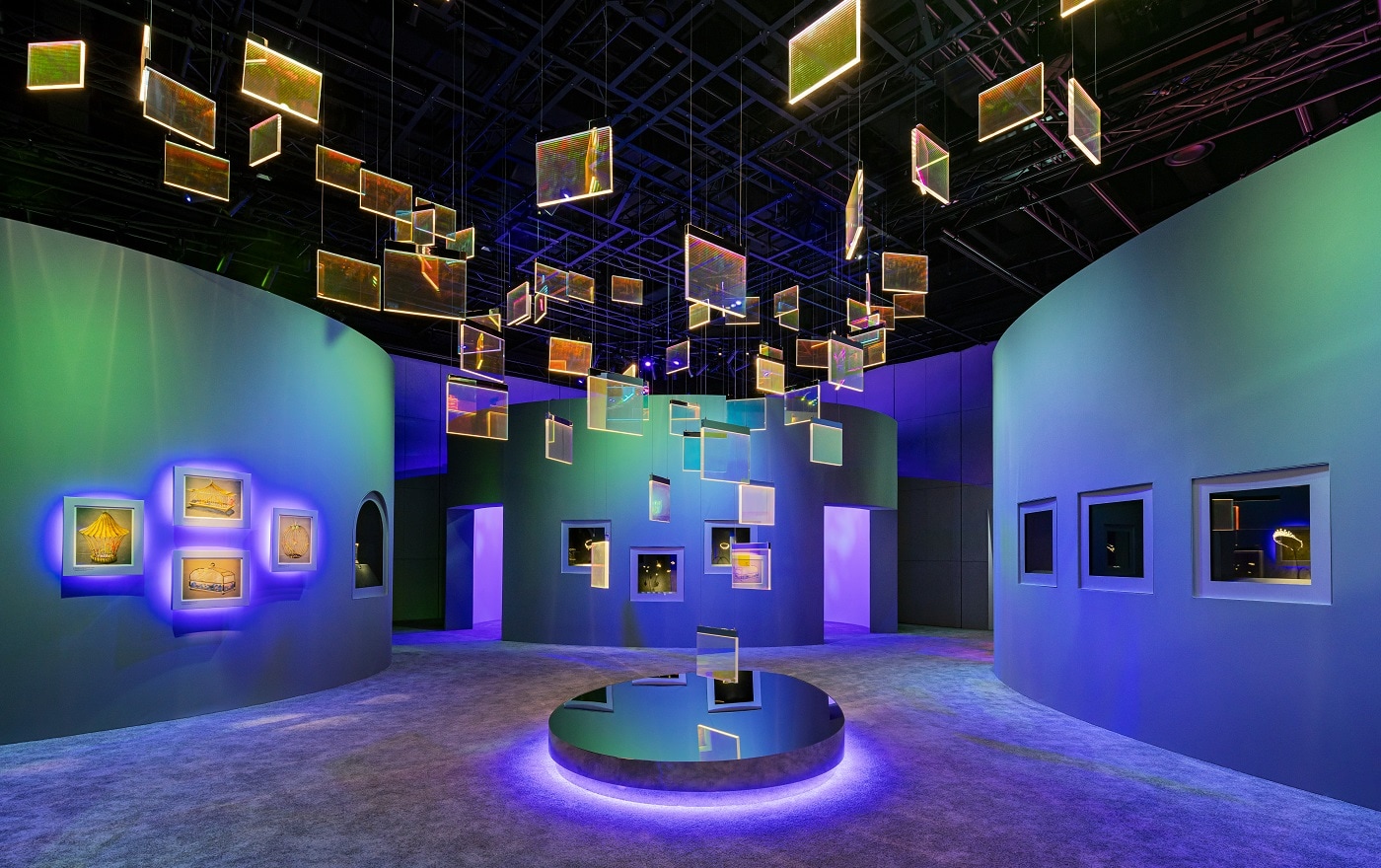 The "Van Cleef & Arpels: Time, Nature, Love" exhibition displays the universe of the High Jewellery Maison at D Museum in Seoul, from November 18, 2023, to April 14, 2024.


The exhibition, taking place in the D Museum where everyday life becomes art, offers visitors the chance to discover an enchanting vision in which the expert craftsmanship and pursuit of harmony at Van Cleef & Arpels come together as a veritable art form, showcasing over 300 jewellery creations, watches, precious objects, sketches and archival documents.
Curated by Alba Cappellieri, Italian scholar, author and Director of the International Master in Jewellery & Fashion Accessories at Politecnico di Milano, the exhibition revolves around three sections: Time, Nature and Love. The art of jewellery maintains a complex relationship with time, ever in balance between the eternal and the ephemeral, tradition and fashion. The exhibition demonstrates the prowess of Van Cleef & Arpels in thoroughly representing a fragmented age like the 20th century, embodying at once the timeless value of beauty and fleeting power of enchantment.
Drawing from Italian writer Italo Calvino's Six Memos for the Next Millennium, Alba Cappellieri chose key concepts through which she interprets the Maison's creations and their relationship with time. The initial part on Time extends over ten sections, all focused on aspects emblematic of the period.
The first one is dedicated to Paris, followed by the Elsewhere and the five values cited by Calvino: Lightness, Quickness, Visibility, Exactitude and Multiplicity. The next spaces highlight Intersections with other artistic disciplines, which are Fashion, Dance and Architecture. The second section of the exhibition is dedicated to Nature, expressed through Fauna, Botany and Flora. Finally, the Love-themed room displays creations – symbols and gifts of love – that have embodied the power of emotions, as tokens of some of the most mythical romances of the 20th century.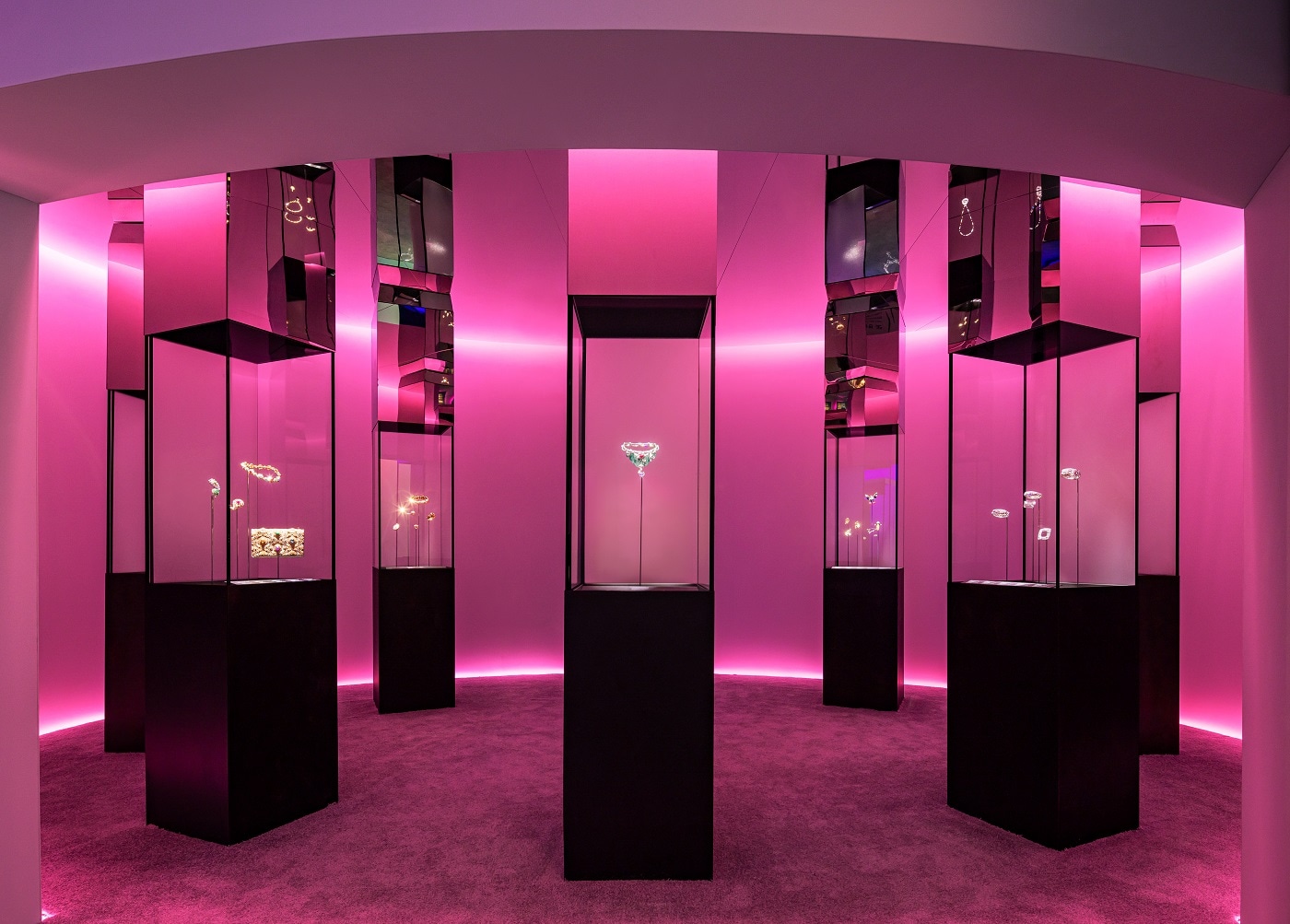 "The ability to focus on selected crafts, applying a consistent approach to its style and incorporating innovations without submitting unduly to the prevailing spirit of the times, is a true strength for the Maison. We sought to transmit this spirit through the "Van Cleef & Arpels: Time, Nature, Love" exhibition."
- Nicolas Bos, Chief Executive Officer of Van Cleef & Arpels
An homage to three eternal dimensions
Time - Van Cleef & Arpels jewellery and precious objects are rooted in a specific age, a context that weaves subtle connections between Paris and the world, past and future, jewellery and other disciplines. In the center of this complex environment, the Maison has succeeded in building a distinctive and coherent style in constant evolution and a legacy of chemistry between creativity, innovation and timeless elegance.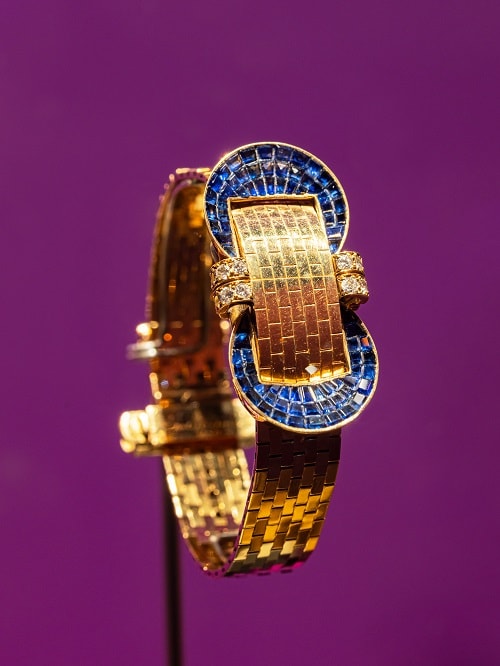 Nature – A time-honored source of inspiration for both art and jewellery, nature has endowed the Maison with an inexhaustible formal repertoire. Today, inside the D Museum, the Nature section calls to mind a stroll through a lush garden, enveloped in greenery and flowers in bloom, birds in flight and mischievous animals, all representative of the ever-evolving style of the Maison.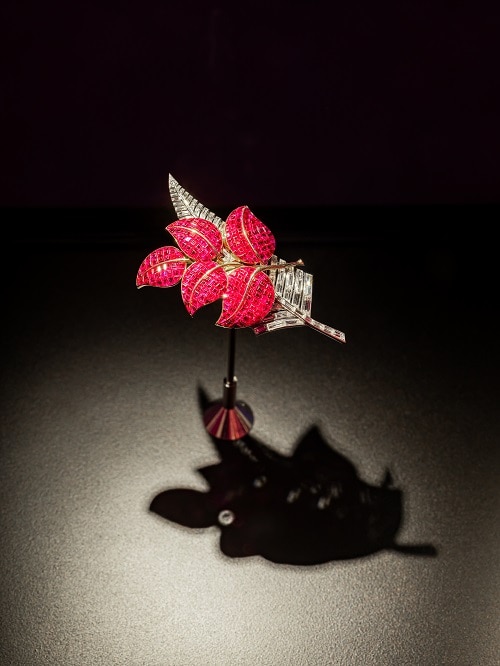 Love - A powerful energy, Love gave birth to the High Jewellery Maison: it was founded in 1906 following the wedding of Alfred Van Cleef and Estelle Arpels in Paris a few years before. Around 30 pieces – clips, rings, bracelets, objects and more – together with sketches and archival documents illustrate the full symbolic power of precious gifts.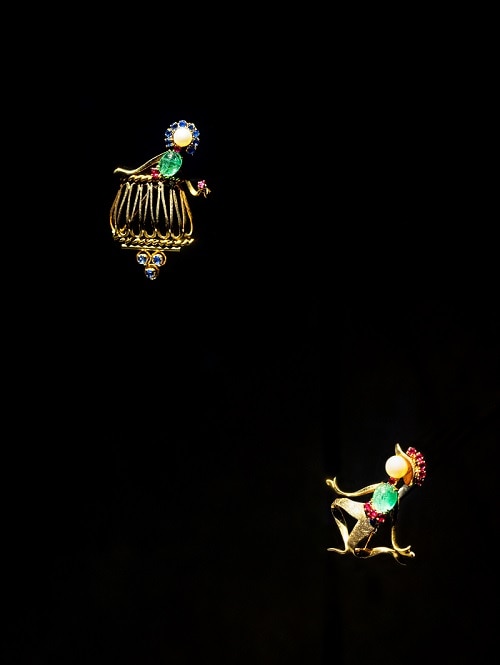 A scenography alive with light and colour
This rare selection is showcased in an immersive scenography conceived by international designer-artist Johanna Grawunder. Using neon colored light, she created a poetic and mysterious space and conceived a monumental transparent sculpture displayed in the Love room. Together with Michał Batory, graphic designer, who created a special typography and produced a video for the occasion, they contributed to highlighting the timeless style of the Maison.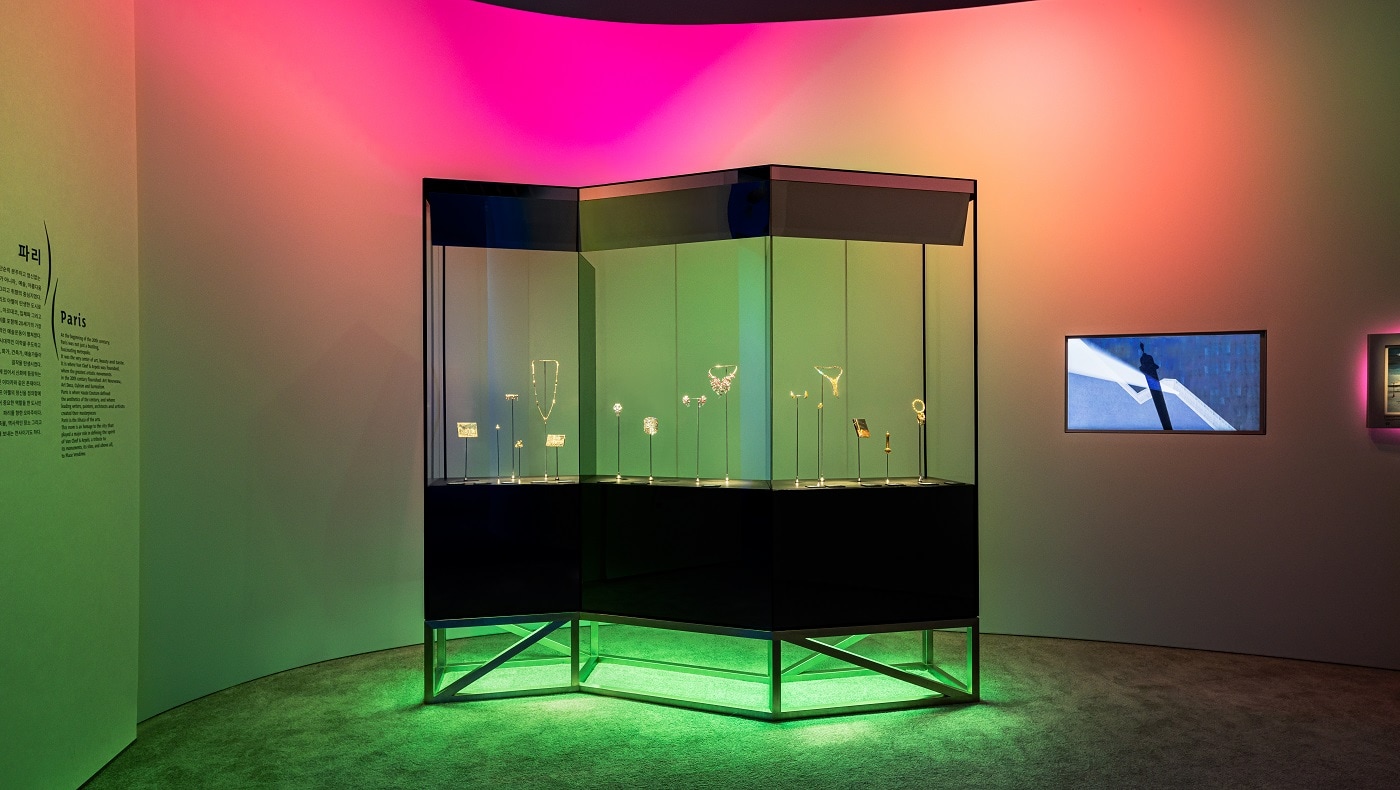 Exhibition details
Dates
November 18, 2023 - April 14, 2024
Opening hours
Tuesday to Thursday 11 a.m. - 6 p.m. Friday to Saturday 11 a.m. - 7 p.m. Sunday 11 a.m. - 6 p.m.
Closed on Mondays (except for April 1 and 8, 2024) Last admission an hour before closing
Address
83-21, Wangsimni-ro, Seongdong-gu, Seoul
About the D Museum
The Daelim Cultural Foundation was established in 1996 as Daelim Museum, the first photography museum in Korea. With the opening of D Museum in 2015, the foundation has been expanding with its vision as "a museum where everyday life becomes art." The Daelim Cultural Foundation is committed to contributing to the advancement and revitalisation of culture and art. Through various exhibitions and related programs, it promotes a new lifestyle through which art is part of everyday life, by shedding new light on the objects' value commonly found around us.
With views spanning Seoul Forest and Han River, D Museum is a culture art space which hosts not only exhibitions but also performances, as well as educational and cultural programs. Measuring 5,400 sq, the museum consists of a total of five floors, including a two-story exhibition space, a multi-purpose hall on one floor, a rooftop, an education center for all ages, and a shop. It was designed to enable flexible spatial variations to reflect the diverse characteristics of the exhibitions. Such space offers the audience the opportunity to experience completely new transformations of the museum each time.
D Museum aims to establish itself as a world-class culture and art landmark of inspiration, where art is accessible and experienced by all.
Press lounge
Please find access to Van Cleef & Arpels presslounge at the following address: https://presslounge.vancleefarpels.com
If you do not yet have an account, you can register online.
Photography Credits
© Yongjoon Choi